Ethiopia Needs 'Fresh Forces' to Deal With Upheaval, Party Says
By
Ethiopian premier announced surprise resignation last week

Government has failed to end more than two years of protests
Ethiopia's ruling party needs "fresh forces" in its leadership to tackle political upheaval and achieve its economic goals after Prime Minister Hailemariam Desalegn's surprise resignation last week, a leader of his party said.
Hailemariam, 52, announced Feb. 15 he's stepping down after an internal evaluation of the South Ethiopia People's Democratic Movement, one of four parties that make up the ruling Ethiopian People's Revolutionary Democratic Front, said Tesfaye Beljige, secretary-general of the SEPDM.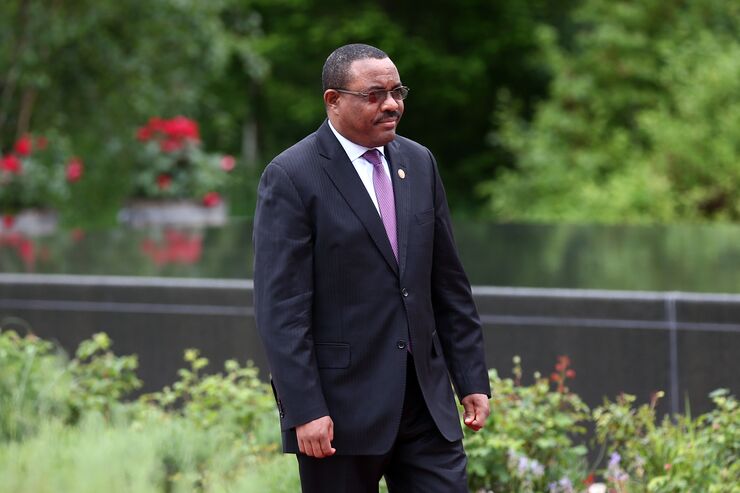 Hailemariam tendered his resignation "on the basis of the national situation and especially the current political situation" and not because of "his failure to perform individually," Tesfaye said. The prime minister told the front's leadership that he has faced a "very hectic situation" over the past six years, Tesfaye said in an interview Sunday in the capital, Addis Ababa.
Prisoners Released
In a policy shift, Hailemariam last month announced that more than 7,000 political prisoners would be released and further political reforms would be implemented.
The new emergency "undermines recent positive steps toward creating a more inclusive political space, including the release of thousands of prisoners," the U.S. Embassy in Ethiopia said in a statement. "Restrictions on the ability of the Ethiopian people to express themselves peacefully sends a message that they are not being heard."
The European Union in Ethiopia said in a statement on its Facebook page that Hailemariam's resignation "opens a period of uncertainty" and the government should pursue the "positive reforms" he initiated. It said the state of emergency should be "as limited in time as possible and respectful of human rights and fundamental freedoms."
Constitution Suspended
The suspension of the constitution will continue for six months and be extended if necessary, Defense Minister Siraj Fegessa announced on Feb. 17. Siraj, who didn't respond to two text messages and two calls seeking comment, dismissed "false rumors of a military takeover of the government," according to ruling party media outlets.
Information Minister Negeri Lencho didn't respond to two text messages and two calls seeking comment on when the council is expected to make a final decision on the resignation. Zadig Abraha, who heads public relations in the prime minister's office, declined to comment on party procedures.